I'd like to scratch build a G-scale covered railroad bridge. The main thing I need are the dimensions to use for the open ends.
I've decided to model my bridge artistically after the a covered bridge in New Hampshire name the Ashuelot Covered Bridge. I realize that this bridge is actually an automobile bridge. But there are many features that I would like to retain as I redesign this as a railway bridge.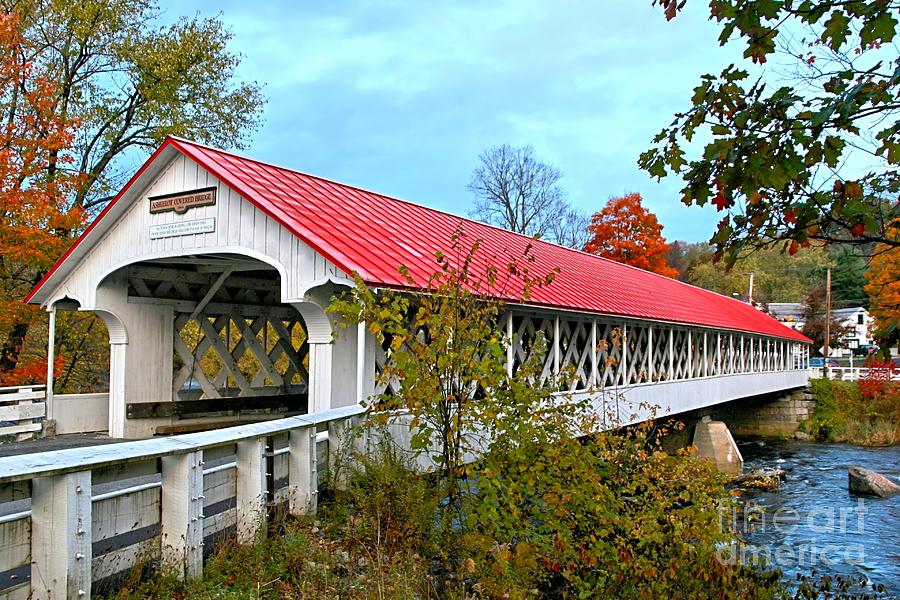 I'd like to retain the basic color scheme, along with the pedestrian walkways on either side of the bridge. I would also like to retain the lattice work along the sides of the bridge. I'd like to be able to see the train as it is crossing the bridge so I don't want a fully closed tunnel bridge.
Here's another view of this bridge:
I realize that for a railroad the bridge will need to be considerably taller. I may even place separate roof panels for the pedestrian walkways since they won't need to be nearly as high as the actual bridge roof.
Here's a photo of an actual railroad covered bridge. I'm thinking of basically building a bridge similar to this, only with the open lattice along the entire sides and then with the pedestrian walkway near the bottom.
Two things I'm looking for right now are the following:

1. What size should I make the openings of the bridge to insure compatibility with most G-scale trains (I might end up selling a few of these bridges so I'd like to be sure they will work with most trains).

2. What size timbers should I use for the G-scale lattice work? Would 12" by 12" timbers be realistic? Scaled down to G-scale of course.
Or should they be smaller, like 10" x 10" or even 8" x8"? What size timers would a real railroad bridge most likely use?
I'm having a hard time finding photos of covered wooden railroad bridges that have open lattice work on the sides. I found the following photo and these timbers look huge. At least 12" x 12" if not larger.