Yep that's what I've heard too... 12V for N scale (although I have also seen some HO that runs on 12V) and usually 15-16V for HO.
As for the board itself, just reading a little bit of that page would make me avoid trying to use that board. At the very least, there does not appear to be any access to the current-sense feature of the L298 chip (it can be added to some boards with a 3W 1.5 ohm resistor and a bit of soldering). Without being able to sense the current to the track, the board has no way of shutting down power if you get a short across your tracks. Also note that the L298 will only provide up to about 1.5amps to your layout, maybe enough for two locos, but only IF you add a heavy heatsink to that chip on your board.
If you can pull yourself away from 'shield' boards, there's a much better choice. Search for a BTS7960B (sometimes listed as IBT_2). This board can be found for about $7, includes the current-sense function, and can handle up to 43 amps of power (way more than you will probably ever need). Note this board only handles ONE track though, so you'd only use this on the main layout. You would also need a transistor and a couple resistors to complete the circuit. Here's what the circuit looks like connected to my ESP32: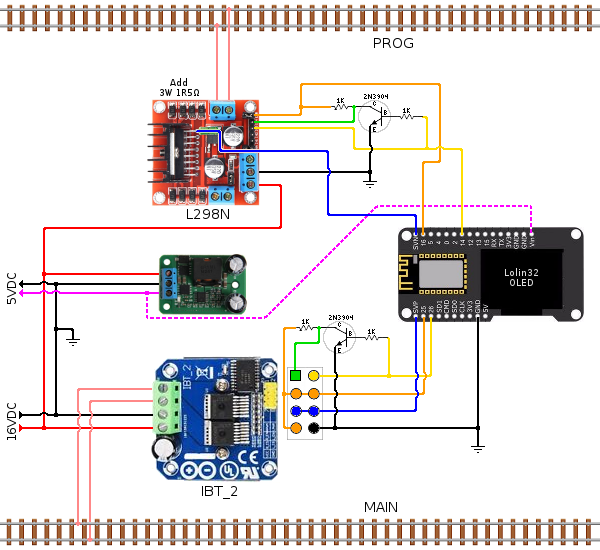 The blue wires are the current sense lines, orange is the enable line, and yellow is the DCC signal output. The logic pins on this board get power directly from the I/O lines on the arduino, so no need to cut traces. It is also compatible with both 5v and 3.3v devices.
The circuit above is what I run here. The L298N board has been modified with the resistor to allow current sensing on my programming track, and I have a separate board to provide a regulated 5V power source out of my 16V power pack (which I also use to run an arduino that is set up as a decoder to run turnout servos). You can get much smaller arduino boards than the Mega/Uno, and plug them directly into a breadboard with the transistors and any other parts you might need. I use an ESP32 board with a built-in display and the corresponding DCC++ESP32 project code to allow wifi access, but not everyone cares about that.
Anyway, there are alternatives available that are much better suited for DCC if you are willing to do a little breadboarding.