SInce John is rehabbing a 2026, I found some time and pieced this thread together. As I said before the 2026 has been a favorite of mine being one of the first cast engines I collected. It also needed parts. It was missing a steamchest, I originally found a broken one, but did replaced it for a good one over the years I have had it.
Left to right, 2026.2016,two 2018's,2036,two 1666's and two 224's. I didn't even bother with the tenders.
First of all, the 2026 is a six wheel drive engine. The common arraignment is 2-6-4. It is heavy being cast but some have the opinion of disliking the single front axle. It is prone to derailment on switches. A common fix is to replace it with a two axle truck. Adding weight and adjusting more spring tension help too. My 2026 does not have magnetration some variations do. From the picture the 2026,2016,2018,2036 are very much alike in appearance. They have the same shell. There may be more but their number slipped my mind.
Finally the 2036 has larger center wheels causing it to rock and roll down the track. This was a company mistake that causes a frequent derailment.
My Xmas car repainted on a 2018 shell with a 224 steamchest and a 1666 motor numbered 2412(Xmas eve),
Xmas tender link
,gall
ery picture
.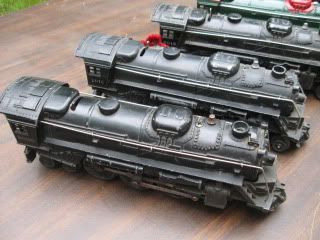 The 2126 ,2016, 2018 in the first picture. The Two 2018's and the 2036 to the top right.
Another thing is the 2026 and the 2018 came with smoke. Most of these did, I just can't remember the exceptions.