Discussion Starter
·
#1
·
1962 was a good year. The 616 is a singe field motor with a C battery powered horn, three position e unit, and this model had one operating coupler. I just anted to review the procedure I went through to get it working again.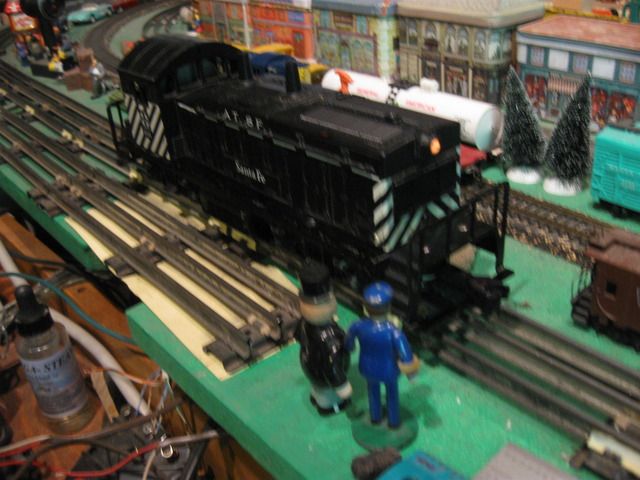 First a review. The battery sits in a cradle with the horn and horn relay. Track voltage DC operates the relay for the battery to activate the horn. The relay is isolated from the bracket . The horn is riveted to the bracket and also soldered for ground to the bracket at the lower base of the horn. There is a ground wire from the relay to the bracket just under where the horn is soldered.
Now a horn is just a coil with a vibrating plate. Normally the wire to the coil corrodes and ruins the horn. So first I use 6 volts and play with the adjustment screw. The screw was all the way so at half turns I test the horn. Somewhere around three to six urns it worked!!!!
Next I went to two d cells and polished the top of the horn for a ground. That worked. Next was the single c cell at 1,5 volts. A faint bleep. Tried another single battery. Still no horn just a click. I need to improve a connection. I tried heat. I hit the horn case with a heat gun opposite the insulated rivet . The aluminum absorbed the heat quickly. Hot to the touch. It was just a few seconds of heat. Wouldn't you know it I got the c cell to work. I may have tried the two d cells to vibrate it up a little. but it d work. I clean up the copper battery connection at the top of the relay and where the battery sits. That was it. The relay was already working.
On the track it hesitated a few times but it sounded great.
The last which I didn't need was to solder a flexible wire from the lever at the base of the relay to the top of the relay to improve the connection, This idea was from an issue of classic trains.
Two helpful hints are: vibrate the horn at a higher voltage, use a little heat.
If you have go into the 12 volt range or higher to get a beep chances are the horn is gone.
For six volts I used a simple DC power pack and adjusted the voltage with a meter.
Beep Beep!