This is a quick check of a whistle tender. Four screws hold the shell on to the frame. Next remove the brush plate. It has two nuts and because of the wiring I removed the connection to the relay. On the right side right picture. The brush plate normally lifts off but the wire on the lower right was wrapped around the threads and jammed down by the washer. I used pliers to work it free. Then the plate easily lifted off. ALso on inspection one of my center wires was disconnected from the center pickup. That pickup has a broken spring. That funny center bar contains felt that holds oil for the spinning armature. Even though the other end has none.
Ugh. I used wd40 to clean the armature and the brushes. I rubbed the brushes on a piece of carboard lightly to clean the contact surface.
Next the copper was in good shape but I used 400 grit to smooth it out.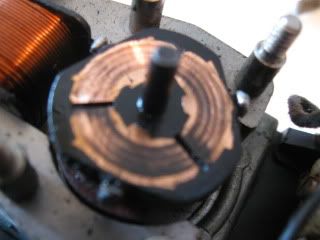 The sick pickup, and a bad screw post. I normally cut them out and replace it with epoxy and redrill a screw hole.
Last the whistle unit and relay
prr1361 asked about this in another thread.
That about explains it. Hope the relay works.