I know I haven't posted here for a couple years now, because I've been more active on the Bachmann and TYCO forums. Well, the TYCO forums are down for now, and I want to find a way to share the new model railroad layout I built this year, so here I am.
First, a background: later last year, we were finally going to be moving to a new house, as my parents had enough on living in a very old house on a busy street corner. So I figured since we were going to move and I was going to have to dismantle the model railroad layout I had at the time that I built in spring 2014, I figured I might as well design and build a brand new HO-scale model railroad layout for the new house we moved into! It helps that the basement is much bigger and easier to get around than at our old house, so I was able to make this layout a bit bigger than the old one, and try out a couple new ideas.
Although I reused the 4x8 plywood from the old layout, I also built all-new benchwork, and as a result the layout is now at eye level when I sit down to operate it, and the space underneath allows for storage of the containers I put my extra model train stuff in as well, hehe. I also built this current layout not being against any walls this time, as my space was set to be near the furnace, and plus I wanted to be able to walk around all sides of the layout anyway to make it easier to access all parts of it.
It is set up as an 11x8 L-shape, and in constructing this layout I used 2-inch layers of extruded insulation foam from Lowe's (they sell it in a greenish color instead of the more common blue, but it still worked great for me!) and I also went with Bachmann's nickel-silver E-Z Track. It's much easier to put and keep together and aligned than it was with the snap-track on my old layout.
The track plan is loosely based off one I saw in "The HO Model Railroading Handbook - 3rd Edition" from 1998, but I modified it with an extension to make the L-shape. The landscaping is also new, and I reused much of my existing structures and accessories, along with some new ones, along with reusing my existing locomotives and rolling stock (of course.)
Here's my TYCO manual operating container loader/unloader on the job. On this layout I'm using Bachmann's undertrack uncoupling magnets located near such accessories or whatever. That lighted bumper is actually from Model Power's short-lived "Lock-It" roadbed track line that was designed to be compatible with E-Z Track (Bachmann didn't like that idea and filed a lawsuit over it.)
The freight train after coupling back to the caboose. Yep, cabooses still live on with my layout! Also note the Model Power 3-light signal.
Both my current trains passing through the downtown area of my layout. The street here is the Walthers Cornerstone Asphalt street system.
My TYCO Burger King and Life-Like Kentucky Fried Chicken that are part of the fast food district on my layout. The reason I put them near a railroad crossing is to mirror how it is in a nearby town from where I am (the Burger King was originally an old train station in said town.)
My A.H.M./TYCO Pizza Hut next to the Walthers Merchants' Row I kit, with a Dunkin' Donuts shop!
The downtown train station, consisting of a Life-Like Snap-Loc Dickerson Station kit and a Bachmann Plasticville station platform kit, with an Amtrak Superliner train stopped here to pick up and discharge passengers.
This intersection has a working Walthers Cornerstone/SceneMaster traffic light! Also note the custom marquee on the TYCO Center St. Loew's Movie Theater.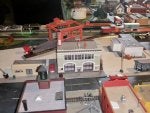 Bachmann Plasticville Post Office and Life-Like Hampden Fire Engine building kits. I also set up an old TYCO blinking traffic light to use as a fire station signal.
My TYCO Center Street Series II building kits. The school was custom-painted by a friend to look more like some of the old school buildings in my hometown.
More images to come in a follow-up post!
And here's a recent video I shot of the layout in action...
Hope you all like it! This has so far been my most elaborate and realistic-looking HO-scale train layout.