Show and Tell.
Iwas lucky and got a chance to see and clean up this beauty. Built by lionel in 1983-84 It runs on an DC motor with an electronic e unit with an AC transformer. On the back of the cab there is a switch to to bypass and only go forward.
I remember these at Toys R US . At the time that's what I thought a toy. Now, it is really a neat little engine worth collecting. Idid replace the dome on the back by the cab. The owner had it, The tabs were broken so I just used a screw and nut.Acrylic Antique gold paint worked wonders with the screw head.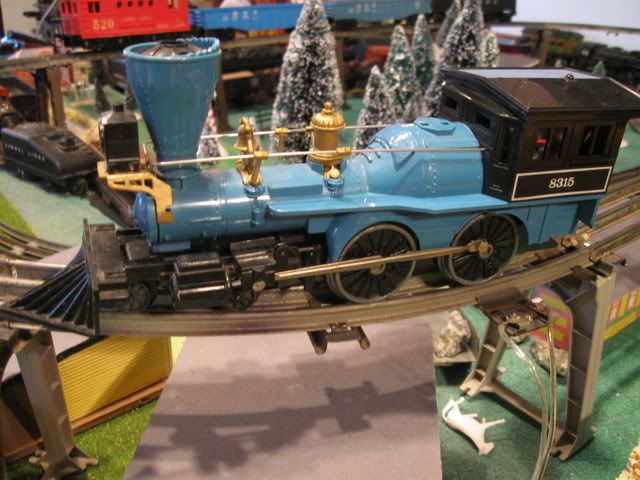 Two screws and off comes the shell. I washed the shell with a soft brush and liquid soap. The front has a light socket so I kept that area dry.
Electronic e unit
This interests me. It has the blue capacitors. In the center are small switching diodes. No idea of the integrated circuit. The black items must be a voltage regulator and bridge rectifier but it has four?Of course some resistors, and a few other capacitors. I'd love to see a circuit diagram of the board.The e unit has 6 wires blue and white (9 to the switch )and one gray, one black, and two red. White was a feed from the center rail.
Close up of the motor area
Aside from some damage on the railings it's neat.