Discussion Starter
·
#1
·
This is a query on what you do /want to do/ your thoughts, on detection for RXR crossings on YOUR layout?????
I am asking as I want to detect my locomotive to turn on and off a flasher circuit board for my railroad crossing lights and
I want it to work just like real crossing do.
I looked at magnets and reed switches, detecting amp draw on isolated track sections, and phototransistor circuits.
I believe I am leaning toward a phototransistor circuit do to the fact I only have to drill holes for the phototransistors.
I already have the crossing signals and a circuit board for the alternating LED's.
So I just need the on and off trigger to make it all work.
I am open to suggestions as long as you remember I am on a shoestring budget.
This has to be done on the cheap or as cost effective as possible.
I do solder and have made my own timer circuits, car alarms, etc., in the past.
I would actually make my own prototype circuit board but I really don't have specific components. I do have a relay and some resistors but most of what I have is just some junk parts from here and there.
I don't have any bread board either. So, the investment in time and money to make a board might be as much as buying something RFI (Ready For Installation).
Looking on E bay, I did find this detection circuit ....B
I-DIRECTIONAL HO SCALE MODEL TRAIN DETECTOR KIT WITH RELAY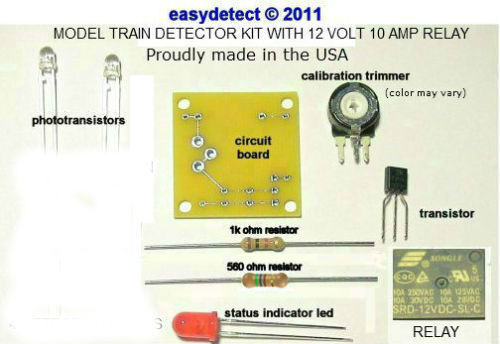 The circuit uses the ambient light on the layout to detect the presence of a train when it moves over the detection points....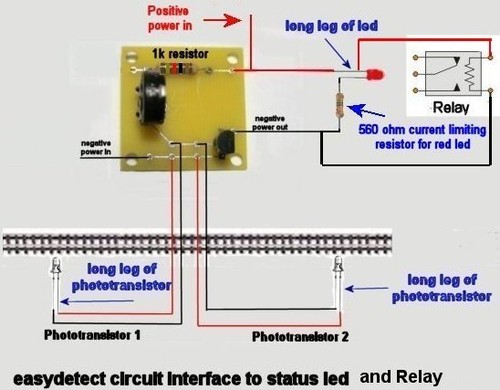 So what do you think on the price of $16 for each circuit board???
Is there a way, I am not thinking of that is much cheaper to make this all work?
Thanks for all your thoughtful replys in advance.