Discussion Starter
·
#1
·
Around seven years ago, I made a trolley loop for my motorized Corgi PCC trolley car. I initially planned to use E-Z Street track, but the trolley would not negotiate the O21" curves so I used O27 track. I used Z scale roadbed between the outer and center rails and craft store 1/4" foam sheets to simulate asphalt streets. The loop goes around a small park in a small town, goes into the boonies and then under my upper loop to interchange passengers with the train.
About a year ago, inspired by Mr. Willis to motorize a Birney safety car using a streets chassis, I got a Divco and a Birney. I liked the Divco and the Birney so much I decided not to do the conversion. Instead I got more streets vehicles and also converted a 57 Nomad. The streets cars run on the trolley loop, but much of the loop is below my upper track or in the background so you don't see much of them.
I've been thinking about turning my trolley loop into a streets loop with more visibility, but I have been putting it off because it involves quite a bit of deconstruction and changes. I'll need to temporarily move the Manayunk viaduct, some buildings and some of the upper train loop to lay in new track. I'm not sure if all the work will be worthwhile. Also wonder if the main street will look goofy since one side of the street will have lots of traffic but won't move and the other side will have very little traffic, but will move. Hmmm…maybe that last thing will look like a traffic jam in one direction.
Now that the weather has cooled, the attic is a better place to work so I am finalizing my plans. Here they are:
- I won't use E-Z Streets track. I will use a combination of Gargraves, Ross and O27. As I did with some of the trolley loop, I'll use Z scale roadbed and ¼" foam craft sheets for the streets. I'm not crazy about having all the streets black (like fresh asphalt) so I may make some sections gray.
- I'll move the section under the upper level out to the street and extend the line a few feet. This will create about 6 feet where the cars are running in the foreground.
- I would like to be able to do some street running with small switchers. I cannot do that with the current trolley loop because there is not enough clearance under the upper train loop support. I tested a BEEP and an MTH 44 tonner on the O27 loop and they were not at all happy. I was thinking I would have to go to O31 or at least something larger than O27, but either way, that means more reconstruction to my little town and park. Bending Gargraves to O31 or smaller is a pain especially if you are using 30 year old track, so I may go with Ross O31 or Gargraves O32 curves. I got some Ross O31 at York, but then I tested the 44 tonner and an SW1 on stand alone O27 track and they seem to work fine.
- There is currently an interference between the trolley loop and a loop 3 siding if I run something with even a small amount of overhang. Reconstruction will solve that.
- The loop will be about 28 feet long. Not sure how many cars I want to run at one time. I've read some of the things that Lee has written, but have not decided on how I will keep the cars separated. I haven't figured out a good place to put the IR sensor blocks (where I could hide the components and have a good line of sight on just one section of track). I don't really want to remove the rectifiers either since I also want to use the track for AC switchers and trolleys.
- I'm thinking about having each car stop for about 3 seconds at a stop sign, but haven't looked into what circuitry is needed to do that. I saw a Train Presence Sensor from JW&A the other day so I may look into that. I'll have a switch to turn the stop feature off for when I run the Peter Witt (Bachmann) trolley.
- I'm thinking I'll have a DPDT switch so I can run conventional for the streets vehicles and trolleys and DCS for street running of switchers.
- I may run a strip of LEDs behind a shelf to illuminate the background.
Here are the before (trolley) and after (streets) loop plans and a few pics of the area to be changed.
Feel free to chime in if you have any comments or suggestions.
BEFORE
AFTER
This area will remain more or less the same, but will be moved to avoid an interference (circled). Cars will stop at the stop sign (arrow).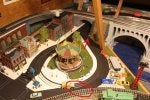 Streets track will run on the roadway. LED strip will be mounted behind the shelf (yellow).
Passengers on the trolley line (arrow) currently interchange with the train by climbing steps. Upper station platform will be smaller.
Existing loop (blue) is under upper level. New loop (red) will be in the foreground.
Feel free to chime in if you have any comments or suggestions.