Discussion Starter
·
#1
·
posted this on other railroading forum as well so for those who read both no need to discuss it on both
ok, so i started with 4x7 which while limited still has some possibilities. well 2 loops is still a possibility, no?
i looked a lot at modular layouts and had couple ideas how i could expand my.
initially i thought about T configuration but now i'm playing with the idea to expand sort of around the wall. here is a skeleton drawing:
the bulge in the wall (a coat closed on the other side) is slightly deeper then 2 feet. all curves as drawn are R18 (which while tight i don't think i can avoid using), the straight sections of oval are 3ft long (4 of 9' sections), and there is enough room to put outer oval with R22. the 2x5 addon should hold very small yard/ storage area. it will probably be attached at different elevation. the grade comes up very steep, perhaps the 2 loops running below (or above?) the bridge can be lowered an inch or so by digging into the foam.
i think it can be enlarge to 5.5-6 lenght wise and couple inches in width if nesesery but anything more as i see will start causing problems with reach.
playing little more with the idea this came out: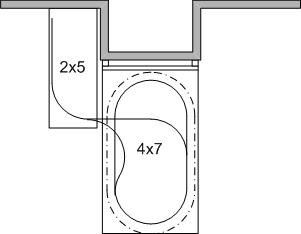 dotted line is the R22 oval which i omitted on first drawing.
while everything here is R18 30 degree sections it is even less realistic - there are even more problems with elevation and second line leading into the yard is ridden with S curves. no mentioning switch that bridges the gap..
your thoughts?