(Sorry if this posts multiple times, but I've tried this twice and am not seeing it show up in the forum. Please delete if I did something wrong unintentionally).
Hi, first time poster here but I've been reviewing the threads for over a week now. What an amazing resource! I have a post war set gifted to me by my Father in Law who's had this set since he was a boy. I am determined to get it all running and keep it running for my grandkids someday. And I've accomplished so much over the past week from learning here on the forum. But I'm stuck and need some help.
First and most important is the Prarie 224 engine.
As you can see
I've opened it up, learned so much, and did alot of cleaning. Now that its clean (I think) im having trouble getting it to run. Sometimes the motor runs, sometimes it doesnt. Either I've broken something while cleaning, touched something I shouldn't, or something has just gone.
Some details first:
I've cleaned the armiture face and grooves. Used 50% isopropyl alcohol - maybe a no-no? Didnt use an erasure or any type of sandpaper.
I cleaned the brushes, wells, and springs using the isopropyl.
Lubriacted and oiled per the user manual (and greenberg book which is great)
I broke one soldered connection (to the e-unit) and re-soldered it
Again, the motor runs but then when i stop it, and try again, it doesnt always run.
to test it i've been putting one wire from the transformer on my bench to the roller plate, and another to the metal frame
also have put one wire onto the metal pin going to the brushes and one on the frame.
once or twice, i put both wires to both metal pins going to the brushes. didnt seem like it liked that
So either i ruined the armiture face by using the alcohol?
Or ruined the motor by connecting live wires to both brush pins?
I'm thinking maybe there's a short?
Finally, i just found something on another thread here. The e-unit doesnt seem to be working at all. when the engine does run i dont see the drum spinning or anything. I didnt clean it but i did re-solder a wire to it (will point out below). I read that a broken e-unit can cause shorts and eventually burn out the motor?
Ok, now for some pics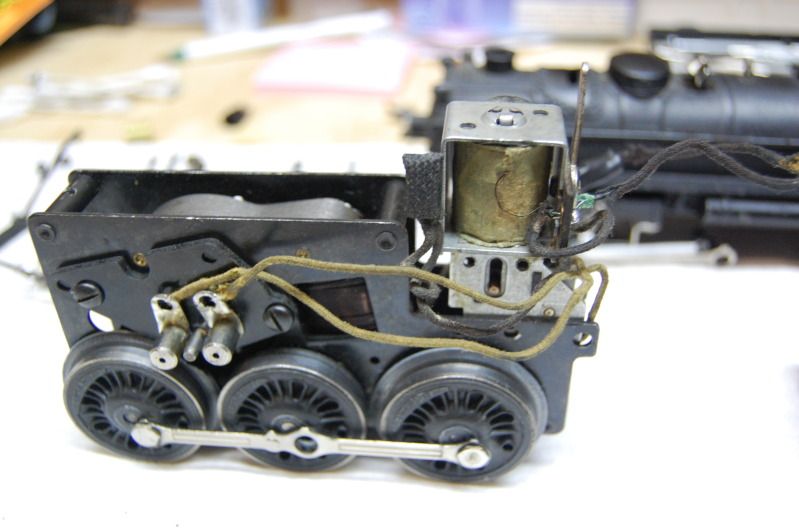 Ok, the solder point on the left is the one i repaired. When this broke, nothing worked. when i resoldered, things started working more consistently. I have the wiring diagram on my bench but not with me while writing this.
The wiring, as you can see, is very old. But I'm hesitant to replace unless i know its bad.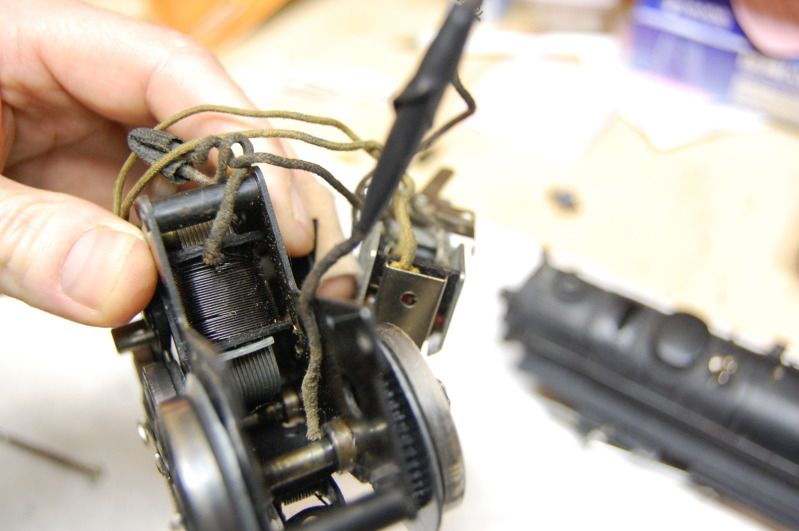 Here's the pins to brushes I'm talking about (again, manual is on the bench so forget what these are called)
Here's how it all looks after I cleaned - I think its pretty good?
Only other thing I can think of is the brushes are not making good contact to the armiture?
Sorry for the long post but I figured the best way to get help is to give as much info as possible!
Thanks in advance!