I recently completed a lighting project for my friend Matt. I thought it would be simple but it got complex fast. I have never seen a coach with so many pieces. Luckily I got it apart with a tiny flat bar I made from some wire and hammered the end flat. Here are the pieces.
Luck continues and it is ready for lighting with pickup The trucks are isolated with plastic axles and each side has two screw heads that press against a metal button through the fram to the big flatbars. The faltbars connect to two smaller pieces that go to the top. No lighting was found after that.
Next I got creative and cut a piece of plastic from a cookie container. I stripped two pieces of wire the length of the coach and soldered four lights in between.The lights are 12 volt micro lamps from Radio Shack 272-1092 I placed insulation from the stripped wire on the lights.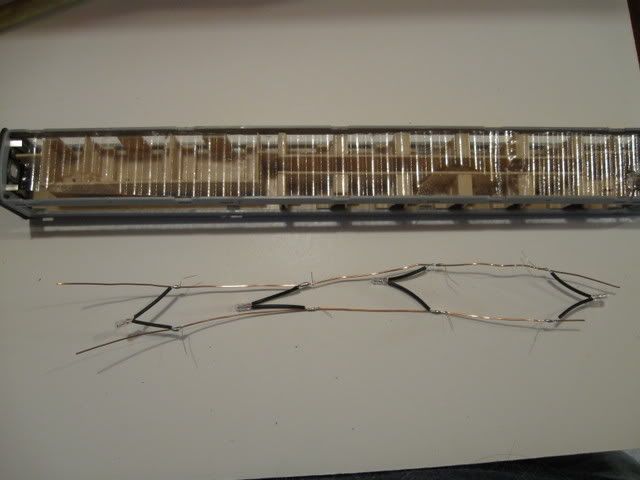 Then I installed two small push connectors on the wires and they fitted on the tabs above and to the left.
To steady everything out I hot glued the wire to the plastic. I had to use the solder iron to melt holes through the plastic for the roof joints to fit and lock. Snap together the rest.
And Test. Perfect!