When it rains it pours, I recently purchased these two gems from an antique dealer of all places. Fixed up they will go with my 249E.
As of now I am not sure what I have. It may be an Ives off spring when Purchased by Lionel. It has 8 wheels compared to the common 4. It has the color insert like the 629 and 630. It has 6 windows instead of 4. This can be explained with the two four wheel trucks and both are lighted.
The interor and bottom is dark green a common color with a maroon insert. The back balcony shows traces of gold. However the exterior is wiped clean.
The bottom frame is green and shows peeling where it meets the side edge. I am shining it up the observation car.
I would like to ask what I should do about color? I do not want to change the maroon insert.The metal will shine real bright. I could go with a green roof and leave the sides metal or do the opposite. Dark green coaches just don't excite me.The green I have now is too seasonal. I could do a black roof too. Green would be original. A sand or beige would work.
If I get energetic I could add steps and a center tank.
For the comedians NO Partridge Family decor PLease.
I did find this
site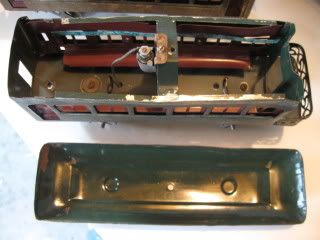 The interior roof is also dark green.
The inserts will stay maroon and the doors are non hinged.
The trucks have no journals. The doors do not have any steps and there is no center tank on the frame.
So far I think the cars are about 1924,25. They are Lionel O gage.
The dimensions are 8 and a quarter inches by 2 and three quarters inches.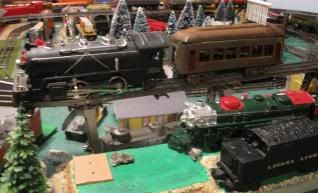 I am still searching images I found decals on E bay so I need to verify the coach numbers.
THE ANSWER
Lionel 610 Pullman and 612 Obsevation. This version is an early one from 1915 to 1925.
Since it is lighted it dates to 1923 to 1925 in this style. For the sides, Pullman was stamped on the bottom. NY City Lines on the top.
SIte
I checked the catalog and it is listed on page 13 with a 154 engine. Amazing what you find when you know what you are looking for.
I am going to go with original amd get the right paint. The tank amd steps will be with ceramic magnets so no new holes will be drilled.
Thanks to envfocus of CTT forum.:thumbsup: