6017 caboose out of a box. I cleaned it up for use. First I took it apart the trucks were rusted.
The shell was washed with a soft brush and liquid soap and water.
I used a demel wire wheel on the trucks and cleaned up the frame .I used a q tip and paint thinner to clean the small areas on the trucks.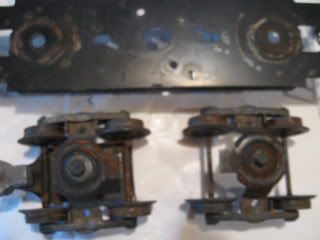 The trucks were broken down for cleaning and painting. Grey priner and flat black. The frame got primer and gloss black. The bottom piece holding the knuckle was just cleaned not painted . Sometimes the inside gets rusted and only then I paint it.
The finished product.