I started the build in March of 2013, and will bring the thread up-to-date as quickly as possible. The room is roughly 21'x32'.
First, a little background. The Long Island Rail Road was chartered in 1834, and is the oldest railroad in the nation still operating under its original name and charter. Primarily now a commuter railway, the LIRR played a key role in the development of Long Island from mostly farmland to the suburbia it is today, moving freight to and from New York City. The Oyster Bay Branch comes off the main at Mineola, which is approximately 35 miles east of the City, and travels north and east to the North Shore next to the body of water known as the Long Island Sound. The branch ran through the village I grew up in, and I'm excited to bring this to life in O scale. I will be modeling 1955, which was the last year that steam ran. In the attached PDF, the first page is the main part of the layout, and the second is the staging west of Mineola, which is below the Oyster Bay yard. The staging allows me to turn and store the trains.
My inspiration to build the Oyster Bay Branch came from an article written by Steve Lynch in the 2004 issue of MR Planning. Dave Keller and Steve Lynch have written two excellent books, The Long Island Rail Road, and Revisiting The Long Island Rail Road. Steve also runs a great site for all train things Long Island at:
www.trainsarefun.com
Steve and Dave have been very generous with their advice and time regarding my layout. I can't thank them enough for their guidance and friendship.
Thanks for checking it out.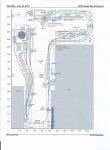 Andy