Discussion Starter
·
#1
·
After a recent discussion of shelf layouts, I realized that this would be an ideal way for me to build some test track where I could try out ideas before starting on my full layout.
My goal is to build a small switching layout where I can test the idea of completely automating yard functions, allowing a computer to reliably move cars around to various locations. Bonus points if I can also write an algorithm which allows the locos to sort individual or groups of cars into a specific order without having to dictate every step of the process.
This layout will be built in HO scale as an 'L' shelf, and I believe the yards on each end will provide a variety of situations that I can test. There is also a mainline track (highlighted in gray) which the switchers will need to keep clear, further complicating procedures. Once I started reading in to switching puzzles, I realized that the right side is actually a variation of the classic 'timesaver', so that gives me at least one known puzzle to work with.
I hope to build this with some easy slopes so it's not completely flat, but otherwise plan to keep it fairly simple.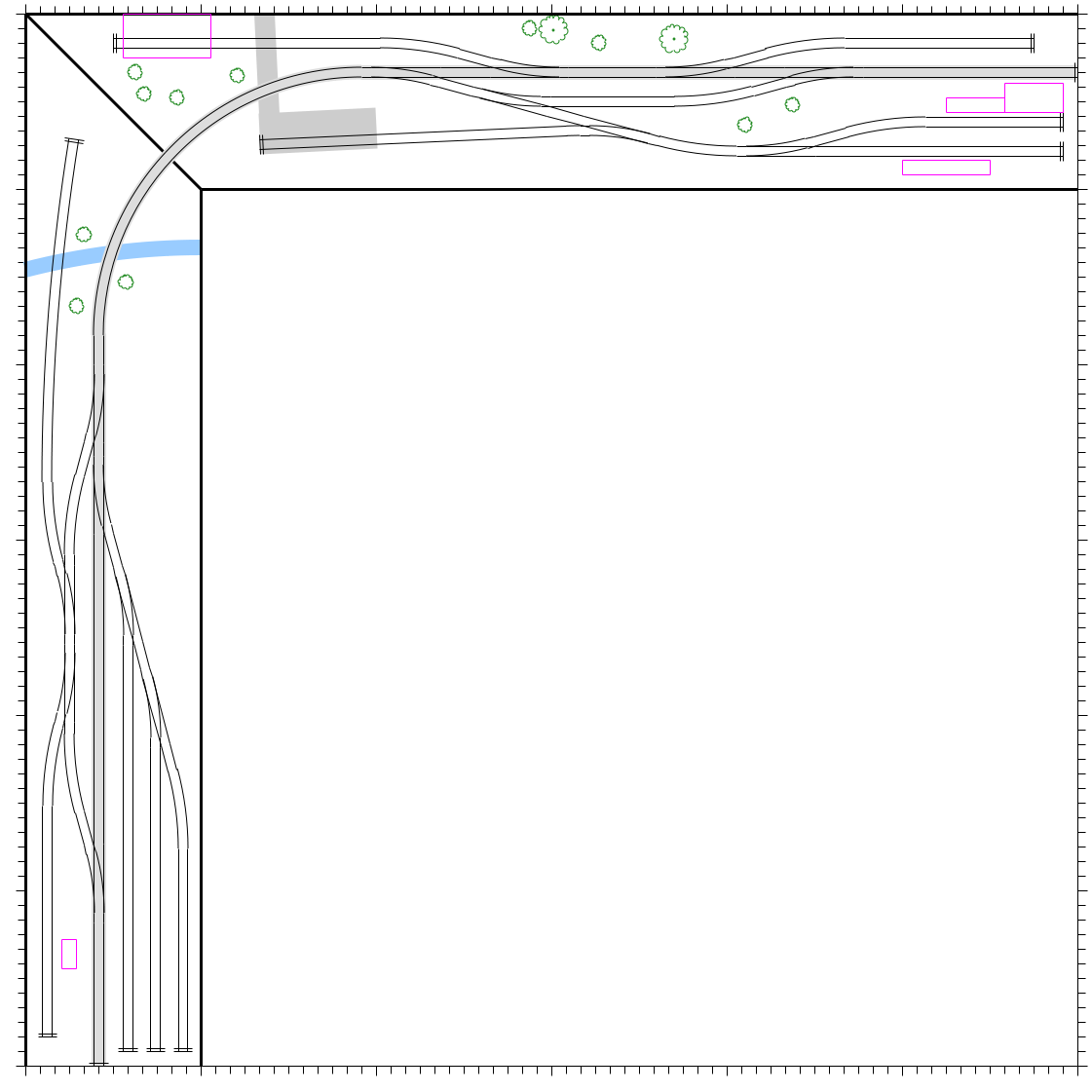 This weekend I took advantage of some spectacular weather and got some 1/2" plywood and 1" foam cut for the shelves. Last night the shelf brackets were mounted on the wall and everything put up in place over my computer desk. For reference, each leg is 12" wide and 72" long, so it really makes a pretty decent sized setup for HO.
I will be using arduinos to build a version of DCC++, and DCC-controlled servos for the turnouts. The 1" foam gives enough room for the servo horn, so I think I can just cut out a notch for each servo. To keep everything easily accessible, I'm going to try and mount all of the servos to the front of the shelf (inside their respective notches) and slide piano wire up to each servo. Then I will cover the whole layout with a final sheet of 1/4" foam to cover the electronics, and a piece of wood trim across the front will hide the equipment but be easily removable for access.
The turnouts are a hand-laid design I came up with to help crunch all the track into a small space. Basically they are each a 15-degree curve of 20.75" radius. I will be running Bachmann 0-6-0T switchers and cars that are 40' or less, so everything should easily handle the tight turns.
Since I have so many details to work out initially (plus building all the turnouts), this will be a fairly slow project to get started, but I'll post pics whenever something interesting happens.