Thought I had really stolen a great lot of 8 wagons + locomotive for $12 on Ebay. :sold: Nice looking Southern Pacific freight train which was my local railroad company in San Jose pre-merger for all its chequered history.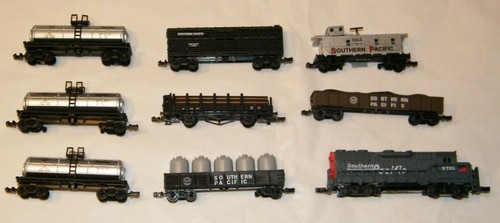 So I completed the purchase through paypal and started researching SP:
Then I remembered the major chemical spill back in 1991 at Dunsmuir.
Dunsmuir spill video:
And I even started laying out the infamous Cantara loop in SCARM (got this attached thanks to BigEd's instrux from another thread THX BigEd):
Then I realized this Ebay lot is just a static display and the wheels are fixed in a straight line so it won't take curves.
So maybe this will just be modeled as a static display of the Dunsmuir 1991 accident - possibly with reenactments every time my 2 year old granddaughter visits!
Come to think of it - this may turn out to be the best $12 I ever spend on the hobby
Dave Nixon