Discussion Starter
•
#1
•
I really like bridges. All kinds of bridges. I've always been fascinated by them. I like the engineering that goes into them and I'm often amazed at how beautiful they look…like a work of art. Big, small, truss, trestle, suspension, girder, bascule, arch, covered, stone, concrete, steel, wood, draw, lift, swing, cable stay, viaduct, cantilever.
So let's see your bridge photos. If you have info on the bridge, please post that as well. Could be a real bridge or one on your layout. Maybe it will give some ideas for folks to model, but I know I'll enjoy looking at them.
I'll start off with one of my favorites, the Rockville Bridge between Rockville, PA and Marysville, PA. The Rockville Bridge was built by the PRR from 1900 to 1902 to span the Susquehanna River. It is the longest stone masonry arch railroad viaduct in the world. It has forty-eight 70 foot spans. Originally it had four tracks, but now has only two main lines. It is currently owned by Norfolk Southern.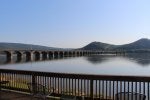 And this is called the subway. It goes under the tracks about a half mile north of the Rockville Bridge.