Discussion Starter
·
#1
·
I am now at a point where I am going to be building bridges. First comes firming up the track bed
This crossover is impossible to see from the operator's position. Therefore, there is no way to know if the train has derailed. These 2 tracks will get bridges to allow the operator the ability to see the crossover.
The track under the box is the track that will pass under the bridges that will be constructed. This bridge, like most of my bridges will be curved.
The flat top part is going to be a pulp and paper mill (Where I work.) There will be a dam at the edge. Because of that, and because of the lower track, I am putting in a bridge. The lower track is actually the same track as the bridge, but it is the end of my spiral tunnel.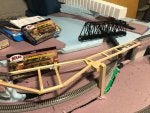 I am hopeful that by the end of winter, the bridges will be in place. Currently, my layout only has 1 working line, the outer loop, as there are no plans for a bridge.... but that might change.