This supply has 20 volts AC and 12 volts DC at 4 Amps. The DC didn't work and blew my amp for the Diesel Horn Project. So I had to regroup and work the Power Supply. I replaced the old rectifier with a new itegrated circuit and with a 12 volt chip and two capacitors I created my 12 volt DC power source.I was getting 18 volts with just the bridge rectifier. I could of used some larger diodes to bring the voltage down to 16 volts and use it to throttle engines but that is another project and I needed a good 12 volt DC supply.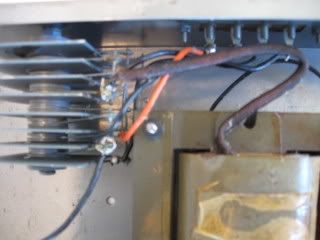 The circuit is fed from the bridge rectifier from the left and out on the right to the terminal strip.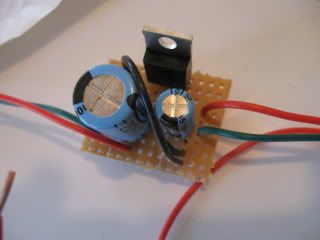 I used RTV to hold the circuit board on a foam board.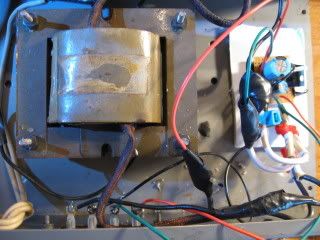 Parts
Bridge Rectifier 276-1146 4 amps and 50 volts
7812 12 volt DC regulator 1 amp 276-1771
100 micro farad capacitor 272-1028
1000 micro farad capacitor 272-1032
This is a Kalmbach Book Project "Easy to Build Electronic Projects for Model Railroaders", By Peter Thorne 1988
page 9
I don't use mine a lot but to place a load on the transformer a heat sink for the regulator is reccommended. Just a piece of metal to distrubute the heat.
DOn't forget the heat sink.