A while back I purchased a Lionel JR. transformer Station from the 30's. The number 1027 will id it in a catolog. It had no roof and the base was so rusted so number was not readable. A few variation exist with different numbers for different years. I know the time period, and it is a cream color . A tiny station compared to others. I did paint the floor green and remove the transformer. I use it for a display.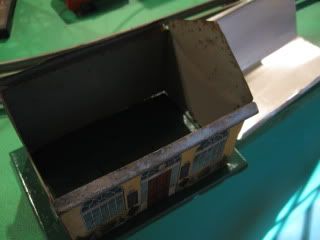 My first attempt wasn't so great so I decided to try again with some 6 inch aluminmun flashing. Due to the thin gage it was easier to work with. Then I brought out the heavy equipment. Vise grip, tin snips and my antique cutter with 8 inch jaws for a nice straight cut.
I bent the top ridge first using some boards. The aluminum gave easily. With a trial fit I added 3/8 of an inch for a curl. I used vise grips and two bends made a pass. I made three passes about 1/8th of an inch apart.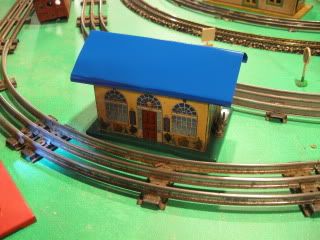 hen I primed and painted. I did use the tinsnips to remove excess under the curl. You have to careful because the aluminum will easily dent but for a display it should be safe. I picked a blue to bring out the windows. The original had a cross pattern with yellow and green.
Voila a roofed Station!