Discussion Starter
·
#1
·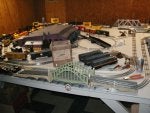 Track comparison photo of standard gauge rail and O/27.
( standard gauge is the larger one)
I have been toying with the idea of converting this to O/27 rail in a future add on addition to my RR.
I found this years ago in a pile of garbage on the yearly junk day.
( for those who don't know what Junk day is when the town will pickup most large bulky items and all kinds of other stuff one day a year for free.)
It's about the only service you get for your tax dollar!
I was walking my dog and he stopped and sniffed a pile.
A Lionel train sniffing dog he was as he always seemed to sniff out trains from junk piles. He found other trains too. Maybe it was the oil smell? I don't know.
Among the other "junk" was this bridge Lionel # 101 in the original box. Made in the years 1920-1931. Besides the paint loss on the one column it's in real good shape. Has all the posts tops and track. The box is in poor shape but the picture label is in good shape.