The 1060 motor is a simple plastic motor with no reverse. Parts are cheep and replacing the motor with a reversible is possible. I want to use this on my DC trolley line. So I added a bridge rectifier and made it DC.
What this means is that on DC current when I reverse it the motor will run in reverse too. This is not true with AC.
The first part is pulling off the wheel. My wheel puller is getting tired. I may get a factory model next. Then I disconnected the coil from the lower shoe(center pickup) and the top (outside rail). I grinded a groove on the back side. Added wires to where I removed them and fed all four out of the case. That big hole is suppose to have a magnet in it. One for each axle. The other half of the coil field is on the other half of the motor and is not shown. I will try to get some before placing the wheels back on.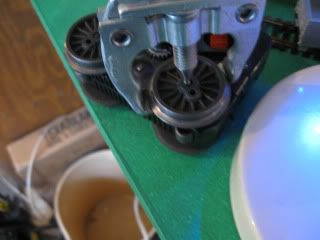 I color coded the sleeves to the bridge rectifier. Red for positive to the coil. Green is ground,and black is the track feed.
Finished. It will sit above the rear trailing wheels near the cab. There is plenty of room there.