The Tin Plate Caboose was manufactured by Lionel from 1933 to 1941. I found this rough gem at the Haverhill Train show and gave it a make over. It's mate is an original I have had for years. I used a dremel sand drum for rust and paint removal and 320 sandpaper. The drum left marks so I had to be straight and one direction for use. It was quick. I used rubbing compound to polish and finished with a clear coat. The frame was done in gloss black.
I went with the bare look and got a car to match the 248. Lithograph painting is still beyond my skill. Maybe someday.
The paint was stock off the Walmart shelf. Primer was used for the frame and interior.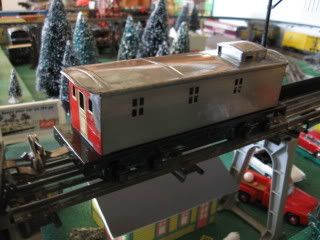 The ends were left original but rust had to be removed.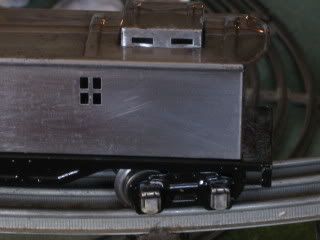 I cleaned up the end journals. They were painted originally.I found the plating defective so maybe they saved them with paint.My other caboose has them unpainted. I used a wire wheel to polish and clear coat to seal.They were so small I slit the paper to set the tab so they wouldn't fly away when sprayed.
More
Visit for more pictures.