This is Tunnels and Rock portals
This is the next step after this tread
Simple track laying and Mountain building
read it first. It will explain the fine details
Start with a piece of scrap ply and draw up this pattern for a single track and 1 3/8 off each center rail to sides and add center to center dimension for total width.
It is NOT attached it's just sitting there to show you that tis is set for a steep cliff side entrance portal.
This one is set for a sloped side entrance portal.
Cut piece of screen for tunnel approximately 12 in wide and as deep as you would like to go, recommend no more than 1 foot. I will be only showing for a 6" deep tunnel, that does work well.
Wrinkle and smash wire un fold and do it again!
Mark center of screen.
Attach screen to center of frame leaving 1/4 sticking out of the front. I used a hot glue gun to put these together, Caution I wrap tape around my fingers to keep from burning them to a crisp from the glue coming threw the screen. You can also staple them in.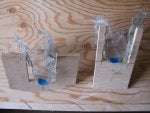 Work around the frame attaching the screen keeping the winkles but keeping in mind clearance for your train.
Fold the excess down to the frame do not trim any off.
Use a scrap piece of ply covered in either tinfoil, or plastic not paper it will stick. Thumb tack the edges of the screen down to the board. You can also tack the frame down to make it easier.
I make tunnel entrances for curved track wider in the rear just to make sure they fit.
Place a piece of base and track in the opening and check all sides to make sure there is plenty of clearance.
Check it against you larges piece of rolling stock.
Mix a very small amount of mud and set the centers of the tunnel, also cut a scrap piece of wood to hold the center back up.
Mix the mud thick enough to not go threw the screen, thin coat the top lightly.
Smooth the inside of the tunnel as you go, don't worry about the look of it just yet.
Continue coating the outside till you cover most all of it, let completely harden.
Remove tunnels and turn over, coat inside of tunnels in light coats till finished.
Let completely harden go to next step.