Discussion Starter
·
#1
·
Anyone have any idea where a person could find a storage box similar to this one here?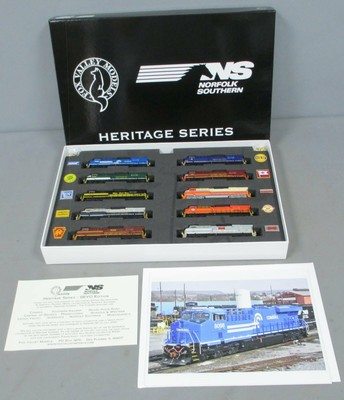 Find many great new & used options and get the best deals for Fox Valley Models HO Scale Heritage Series GEVO Edition 10-Diesel Set LN/Box at the best online prices at eBay! Free shipping for many products!
This listing is not a bad deal with every thing considered. I have zero experience with Fox Valley models so I am unsure of how they rank among the markets competitors. Regardless this would be a nice set to own even if it was used for display only. All 10 NS Heritage units, the pin set to match the engine and the display box which looks to be very neat.
I actually considered the set myself but I have all the Heritage units already, I also have the pin set but the box is something I have never seen before. $131.50 per engine (with shipping added) and matching pin is actually a fair price being they are DC engines. The certificate is a nice touch and of course the storage box.
If I was in the market for the collection this would be ideal but my most recent pre-order came in with Scaletrains.com so I just paid them $500 or so and I just purchased a Overland Brass Norfolk Southern beautiful SD70I.. and well several things I am always buying for the hobby..
Nevertheless I would like to get my hands on a storage box like this if anyone knows where to find them.